My DIY Vehicle Mounted IFAK
So after the hours of pouring over the available pre-assembled IFAK and IFATK (Individual first aid & trauma kit) and their contents I decided to custom make my own pack with materials I would feel comfortable and safe practicing with in the eventuality that I need to use them in a real incident.

I chose the 3 compartment EMT rip away head rest mounting kit with some added alterations. In my previous post Basic vs Premium Trauma kits for your vehicles I shared the different available assembled IFAK kits. Now I am going to show you how I built my own.

---
The Bag I Chose
Infityle Medical Pouch- Tactical Molle Rip-Away 1000D EMT Utility Pouches With Buckle and Strap
Pros:

Large ample packing space


The bag fully packed measures just around 5″ wide and opens and closes with ease and a little wiggle room to give a nice relax feel on the zipper.


Everything fits inside of the pouch so there is no need to buy extra accessory add on pouches for the tourniquet or your gloves.


Cons:


Cheap quality and feel, cheap free items that I didn't end up using in the kit.

This is not a high end quality pouch


One of the interior containment straps broke while I was packing it that required some sewing to fix it.

The Velcrow feels cheap and the stitching is cheaply done.

---
Purchasing IFAK Supplies

 I started buying things from Rescue Essentials online instead of Amazon which was anywhere from $1.00 to $5.00 over priced.

TIP:
#1. Shop your local medical supply store aka A-1 Medical Supply not Wall Greens or Walmart.
#2. Call ahead to the medical supply store and ask if they sell individual packaged items such as "individual alcohol wipes." This will save you from buying bulk boxes of items you don't need.

---
Paracord Handle
Thanks to Great Gadgets & Gear I got the great idea to place a quick release paracord on the handle instead of taking up precious interior space. Granted his weave looks nicer than mine! I also used my own stock of pills in my kit by using a variety pack of zip lock bags.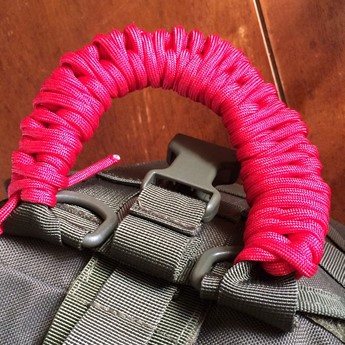 ---
Vehicle Mounting Strap
I purchased 3ft of 1″ Red Strap at Recreation Outlet and a package of 1″ buckle and sliders.
I sewed one end together with the buckle attached and then looped the other end of the strap through the remaining buckle and slider and weaved the excess through the Molle straps before securing it into the slider for the last time.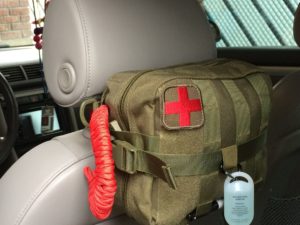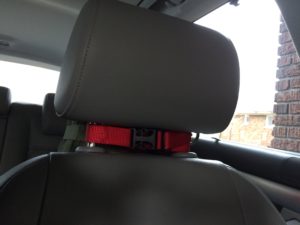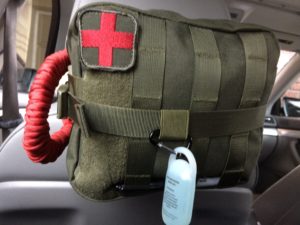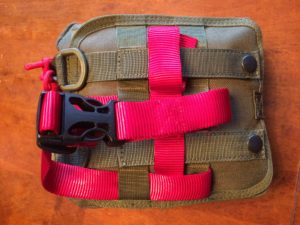 ---
Now Let's Build the IFAK!

Zip Lock Baggies Assorted Sizes $5.99
MyMedic IFATK Pouch $25.00 (Free shipping)- Failed and returned-Too small
Infityle Medical Pouch – Tactical MOLLE Rip-Away 1000D EMT Utility Pouches With Buckle Strap, -Strap Broke but I fixed it.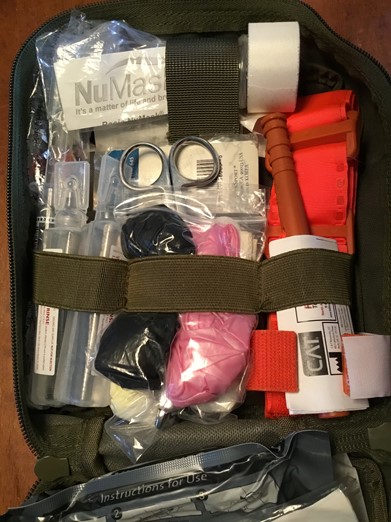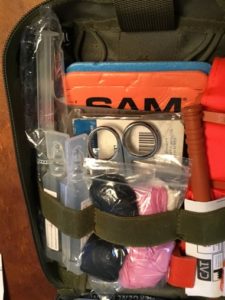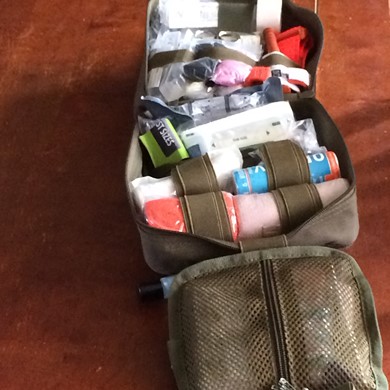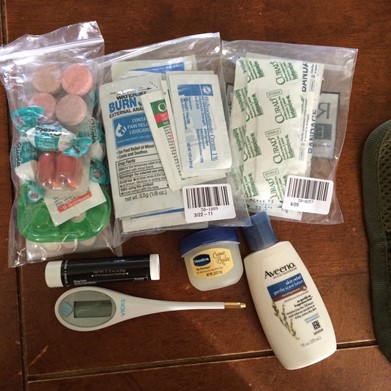 My Kit Content
Purchased,Already Owned,Didn't Include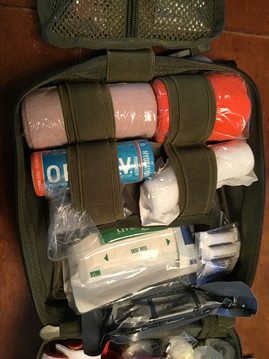 [1] CAT/SOFT Medical Tourniquet 1.5″ 29.99
[1] Liquid Skin®
[1] Emergency Israeli Bandage | 4 in. $6.60
[1] Flat Gauze Roll | 3 in. x 12.3 ft.$1.99
[1] Compact Wound Seal ($11.99)
[4] Gauze Pad | 2 in. x 2 in.
[2] Gauze Sponges ($0.20)
[4] Gauze Pad | 4 in. x 4 in.
[4] Non-Adherent Gauze | Telfa | 3 in. x 4 in.($0.18)
[3] Secure Strips | 0.25 in. x 3 in.
[1] ABD Pad
[1] 10 mL NS sringe+needle tip for irrigation
[2] Skin Prep ($0.18)
[2] Waterproof Bandage | 2 in. x 4 in.
[4] Knuckle Bandage | 1.5 in. x 3 in.
[4] Antibacterial Fingertip Bandage | 1.75 in. x 2 in.
[4] Antibacterial Bandages | 1 in. x 3.25 in.


[2] Burn Jel® ($4.50 5 pack)
[1] WaterJel Burn Dressing | 4 in. x 4 in.($4.45)


[1] CPR Shield –Numed Airway $10.99
[1] HyVent | Compact Chest Seal $11.99
[1] Nasal Airway + Lube | 28 French $4.95


[1] Acti-Splint | Finger
[1] Elastic Bandage | Velcro | 2 in. x 5 ft.
[1] 36″ SAM Moldable Splint $12.95
[1] Coban


[1] Vaseline
[2] Sunscreen
[2] Lip Guard | Chapstick
[4] BZK Wipes | Antiseptic ($0.05 each)
[2] Alcohol Prep Pads | Large
[2] Medicaine® | Sting + Bite ($0.99 10pck)
[2] Oral Pain Relief | Generic Orajel
[1] Hand Sanitizing Gel
[2] Povidone Wipes | Antiseptic
[2] Triple Antibiotic | Generic Neosporin® ($0.18)
[2] Hydrocortisone Cream | Skin Irritations + Allergies ($0.16)
[2] SALJET® Bullet | 30 ml | Sterile Saline Topical Solution ($12.95 10 pack)


[3] Ammonia Inhalant | Ampules $4.77 (10 pck)
[1] Allegra & Zyrtec | Allergies | x1 each
[1] Bayer® Aspirin | Pain + Fever + Headache | 325 mg x2
[2] Medi-Lyte® | Electrolyte Replacement ($0.20)
[2] Pepto-Bismol® | Upset Stomach | Antacid
[3] Tylenol® Extra Strength | Headache + Fever + Pain | 325 mg x6
[2] Dramamine® | Motion Sickness | 50 mg x2
[3] Ibuprofen | Pain + Fever + Inflammation | 200 mg x2
[1] Glucojel


[1] Oral I.V. 2oz $3.50
[2] Chlorine Tab (Decontaminates 0.5 gallons of water each) $5.99/ pack


[1] Survival Rescue Blanket
[1] Rescue Whistle
[4] 12 hour Lightstick ($0.99 each)    
[1] Atwood 550 Paracord | 7 Strand | 20 ft. $1.45 (20ft)


[1] Pen Light (Reusable)
[1] EMT Shears | 7.25 in.
[1] Thermometer | Digital
[1] Moleskin | Blister Protection
[2] Nitrile Gloves | Large Black | Small Pink ($0.35 each)
[1] Tweezers | Stainless + Non-Magnetic
[1] Waterproof Tape | 1 in. x 2.5 yds.
[1] Surgical Scissors | Stainless | 4.25 in.($8.00)
[1] MyFAK bag $17.99
[1] Basic First Aid Booklet $1.64
[1] Tongue Depressor
[1] Pack of Cotton Swabs
[1] Eye pad
Safety Pins