Welcome to my simple DIY blog space.
12/31/18 The end of 2018 is finally here, with many challenges, losses, and accomplishments behind us. We welcomed a beautiful and loving Red Colorpoint rescue kitty, Thor, to our family! I completed my EMT conduit curtain rod and finials while making a huge leap and buying a sewing machine to make the warm insulated drapes for our home. So far I have finished the 11ft wide living room and dining room window bays.
10/20/18 The fall has been shortly lived and another project completed, you can now see how I made a larger than life Jack Skellington Halloween prop, an electrical overland on demand water system for the Reliance Jumbo Jug, and stay tuned for how to build your own 1/2 in EMT conduit curtain rods with finials, and no drill curtain rod mounting hardware!
8/1/18 summer is nearly at an end and a few outdoor projects have taken place. We started installing New corrugated fencing and are wrapping up the finishing touches on my Gabion boxed garden bed. As the temperatures begin to cool I will be racing to weed and prep the landscape for winter and the eventual spring sod installation.
5/15/18 We lost our beloved, charismatic, bold, lovable, bull headed kitty Cody to terminal cancer today. All projects and various tasks have been postponed as we grieve and recover from the loss.
4/18/18 I have been working on our raised gabion rock flower bed and contending with a recent Cancer diagnosis and treatment for Cody. It has been a lot of work to finish up this semester, get ready for our trip through Thailand, and the hardest part of all was finding a cat/house sitter and preparing to be away from Cody after finding out he has cancer. Look for upcoming blog posts regarding Feline Lymphoma and our journey.
3/11/18 It feels as though spring is here early and Eric is busting at the seams to get some work started, so we have started some projects early. We ripped out an old broken cement garden wall and pillars and are getting the garden beds ready for drip emitter installation from 1″ poly pipe to the emitters. Additionally we are looking at having to completely take out and reinstall cement window wells that have come away from the home foundation and we are underway of building a gabion garden bed.
2/19/18 We hunkered down and prepared for a winter that just didn't show up. I have focused my attention back to school and on starting a new life journey of volunteering and redirecting my career energies. We took Cody in for radiation treatment of a hyperthyroid and are still taking care of our very allergic cat, Loki. The very warm winter has been pretty uneventful as we eagerly await for the spring weather and all the DIY projects that follow.
11/17/17 As the chill in the air turns the leaves yellow I am changing gears and getting ready for the colder winter months. I will be looking for worthy DIY sustainable air fresheners for the house and also as gifts for the holidays.
10/31/17 This Halloween I was inspired and am finishing up making my own Jack Skellington Prop completely adjustable and collapsible for storage. I have added a few of my favorite recipes and a quick tutorial on how to make an adult Karate Kid costume for $20.00.
10/1/17 We just wrapped up our camping season with a 7 day back county camping trip through white rim. We managed trips this year to Zion National Park, Bryce Canyon National Park, Moab, and Canyonlands Back Country camping so I will have some updates on the modifications and gear we used.
The additional Rotopax mount to our Eezi-awn roof rack worked flawlessly on the white rim trail as did the maxtrax mounted to the Maggiolina. The extra interior roof space was an essential upgrade as well as the new and improved kitchen set up that were all amazing time and space savers.
We were retro fitting/building a sound barrier in a common wall between two townhouses.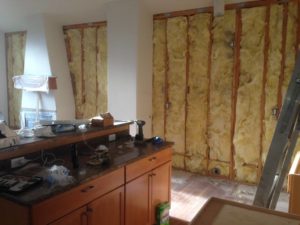 Here I was modifying a harbor freight 6×8 greenhouse