My 72hr 2person+2 cat Emergency Kit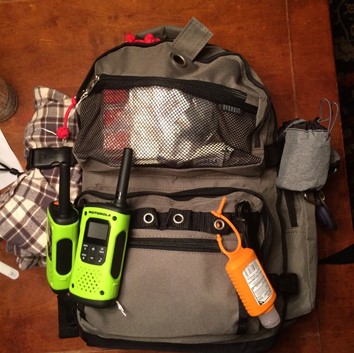 I often wondered what it would take to be ready to leave the comforts of my home in the face of an emergency. At first just the task and cost seem daunting when looking at purchasing items to make a 72 hour emergency kit and you might be telling yourself you don't even need it anyway. Once I took a closer look at what was on the packing list I quickly realized that I already owned a lot of the stuff and just needed to dig it out of long forgotten closet spaces and drawers. I realized that I could use the new emergency items in other areas of my life when camping and hiking. You can mitigate the cost and buy pre-made emergency supply kits and over time buy things to add to your kit. My local Outdoor Supply store sells a one person emergency kit for $40.00 and the emergency blankets ($0.99) and other items which are relatively inexpensive.

Now I want to remind you to think back on Hurricane Katrina and remember that it took FEMA over a week to evacuate disaster victims from the area and that they quickly ran out of supplies. Every single state has experienced a billion dollar natural disaster since 1980 (Smith & Katz, 2013). In 2017 there were 16 weather and climate related disasters across the US that exceeded $1 billion each. These events included 1 drought, 2 flooding events, 1 freeze event, 8 severe storm events, 3 tropical cyclone events, and 1 wildfire event (Smith & Katz, 2013).

This is not going to be a full length review on all of the items in my kit but I will briefly touch upon some of the items for cost comparison and some deciding factors that won me over. We are an avid recreational outdoor couple so we already owned a lot of the stuff needed for our kit. I also found multipurpose emergency walki talkies and other items to be added to our kit that we can use camping, paddle boarding, and hiking.

Emergency Notification Halo+ Smart Detector and National Oceanic and Atmospheric Administration (NOAA)

Your bugout bag or 72 hour emergency kit and any other preparedness efforts you make are only as good as your disaster notification system. The Halo+ is a feature rich smart detector with NOAA emergency weather warning broadcasting and push notifications via an integrated speaker system. So even if all the power goes out this is hooked up to the emergency broadcasting network. It is the only smart detector that seamlessly integrates and works with your existing wired home smoke detectors. It works with your smart phone and serves a dual purpose of disaster warning notification and has six integrated sensors for carbon monoxide, humidity, barometric pressure, ionization, photoelectric, and temperature sensing. You can set it to perform weekly or monthly alert system tests and so much more.
My 2 Person + 2 Cats 72hr Emergency Kit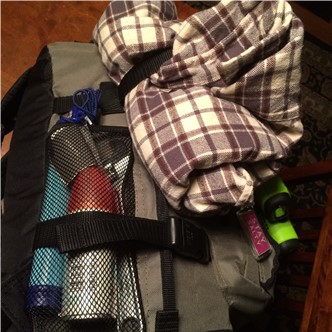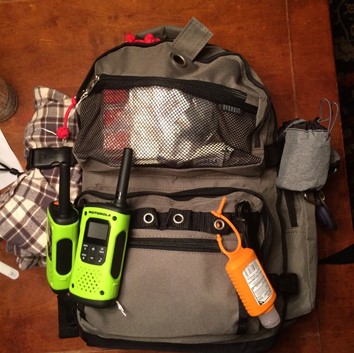 Eric picked out this $19.99 at Smith and Edwards pack and I am so glad he did because all of the extra pockets were essential when organizing and packing. It is an Everest 20-inch Lightweight Over sized Deluxe Polyester Backpack. There are two anterior and two lateral pockets with one large interior pocket. This bag offers a waist strap and Molle attachment points on the front.
UPDATE 3/23/17: One of the straps broke when toting it around today and it had to be resewn. This is not a high quality back country or military grade pack but it will get the job done in a cost effective fashion. You are welcome to buy whatever bag suits your budget and families needs.
*** Item Not Stored With Bag
Toiletries

[2] Toothbrush

[1] Toothpaste

[1] Floss

[3] Urinals

[1] Deodorant

[4] Tampons

[6] Pads (3) Large, (3) Small

[1] All Purpose Soap 4oz


[1] Lugaloo***

(5gallon bucket w/ arm and hammer Essentials Cat litter, Reliance luggable loo, Reliance Double Doodie Poo bags, & PooPowder)

Clothes (Per person)

[1] Socks

[1] T-shirts

[1] Flannels

[1] Beanie

underwear

Food

[2] Spiced Apple Cider

[2] Hot Chocolate

[2] Tea Bags

[3] Caffeinated Crystal Light Packets

[2] Luna/Clark Bar

[2] Granola Bars

[2] Honey Packets

[6] Oat Meal Packets

[1] Life Savers

[1] Beef Jerky

[3] Pouches Of Coffee

[2] Fruit Snack

[1] Oreo Cookie Pack

[3] Mountain House Entrees

[1] Ramen Noodle

[1] Canned Fruit

[1] Pack of Salmon


[3] Salt and Pepper Packs


DAY 1


Breakfast – Oatmeal, Cider


Lunch – Mayday Bar, Canned Fruit


Dinner – MH, Fruit Snack


DAY 2


Breakfast – Oatmeal, Tea


Lunch – Mayday Bar, Salmon


Dinner – MH, Luna Bar


DAY 3


Breakfast – Oatmeal, Hot Chocolate


Lunch – Mayday Bar, Jerky


Dinner – MH, Cookies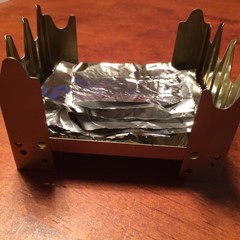 Cooking

[1] Esbit Pocket Burner

[1] Fire Starter

[1] Water Proof Matches

[2] plastic cups

Utensils

Napkins

Hydration

[1] Water Bottle (Empty)

[3] Water Bottles 16oz (Full)


[1] Dehydrated Chlorine package



[1] Cheese Cloth (Water Filtration)

[1] 4 Gallon Collapsible Water Jug

[1] Life Straw Water Filter


See Added Notes below
Pets- Cats

[2] Pillow Sheets

[1] Collapsible Water Bowl

[2] Food Bowls (For this Iused Nancy's sour cream tubs that we had in our recycling bin)

[1] 3.5 oz Bag Of Dehydrated Cat Food

[1] Water Bottle 16oz (Full)

[1] Zip Lock Bag Of Dry Food

[2] Gloves

Light Weight Cat Litter (Inside Lugaloo)

[1] Portable Cat Litter Box (Cardboard Box)

[1] Homeopathic Anti Stress

[2] Plastic Litter Bags

[1] Roll of Duct Tape

Miscellaneous

[2] Plastic Garbage Bags


[4] Glow Stick

[3] AA Batteries
[2] Poncho

[2] Inflatable Pillows

[1] Tube Tent

[1] Self-Powered Flash Light (No Batteries Required)

[1] Emergency Radio

[1] Gas Wrench

[2] Dust Masks

[1] Rescue Whistle

[2] Rescue Blankets

[1] 24 Hour Candle

[2] Pens

[1] Fabric Crayon, Black

[1] Compass

[1] Boy Scout Grenade (9ft Paracord, Carabiner, Tin Foil, Eye Knife, Cotton Tinder, Fire Starter, Fishing Weights, Swivels, Floats, Fishing Line, And Fishing Hooks). $4.99

[5] heat packs (3 hand, 2 toe)

[1] 1.00+ reading glasses

[1] Tissue Pack

Water
You will need 1 gallon/person/day/ x 3 days and you can store water for long term in food grade #2 plastic but it needs to be changed out every 6 months. 1 gallon/person/day will cover cooking, drinking, and hygiene needs for one person per day. During the extreme heat 1 gallon of water is the bare minimum needed for to prevent heat stroke and dehydration and I have personally experienced this and can attest to its validity.
Our MH food packs require 2 cups of water per meal to cook. More importantly our cats food requires water to re-hydrate so don't forget to calculate these factors into your stored water.
Your hot water heater is always a source of stored water during an emergency.
The Basics

1.) We don't have kids otherwise I would follow the FEMA recommendations;

Emergency Container Tip:
Create emergency kit(s) and store in any type of containers with wheels. Such as for the larger kits;
garbage cans, foot-lockers, chest, duffle bags, tote bags, ice chest, various size suitcases or various size
plastic boxes. A water-tight container is most ideal for keeping a 72-Hour Kit.
You can either make one giant bin or duffle bag for everyone in your family or you can make individual backpacks for each member of your family.

2.) Do a google search for a local army surplus store, emergency supply store, and recreational supply store before buying anything online!

I scored a lot of my deals at the local army surplus/emergency supply and recreational outdoor stores. Buying local on most items proved to be either at cost or less than buying online.

The below chart represents the prices of some of the typical items comparing local shopping to online shopping with Amazon and a few online emergency supply web sites. The prices do not reflect shipping and handling (S&H) or tax.
Local
Online
90% Wool Blanket
Alcohol Burning Stove
Boy Scout Grenade
Mre Mayday
Esbit Pocket Burner
Esbit Dry Fuel Pods 14g
Mayday Emergency H20
12 Hour Glow Sticks
Sol Adult Poncho
Life Straw H20 Filter
Stainless Steel Life Straw
Eton Frx3
Hand Held Compass


Dynamo 3 LED squeeze

Flashlight

$29.99
$5.99
$4.99
$4.99


$4.99+ (6) 14g fuel

pods $7.88 (8pck)3 for $1.00


$0.99

10.99
$19.95
$54.99
Couldn't locate
$2.99


$3.99

$60.00
$9.99
$20.00
$4.99 + S&H
$2.99 no fuel pods
$8.99 (12 pck)


$9.98 (12 pck)


10 pck for $9.99
$11.99
$19.95
$34.99
$30.75 (Sale)
$8.99


$6.99
Issues

The first problem is that when you start to try to buy things for your emergency kit and you look online most places will try and sell you large bundle packages. For instance when trying to buy a single Mayday, Datrex, or other high calorie food bars on Amazon I could only seem to buy large bulk quantities. So make sure that you are visiting an emergency supply web site like beprepared.com that specializes in selling emergency supplies in smaller quantities or that you are visiting your local stores.
The next problem was that after gathering all of my supplies and slowly packing them into one single back pack I soon realized that one back pack wasn't going to fit everything for two adults and two cats. I wasn't able to fit all the clothes into the bag so I have to individually pack emergency bags for each of us.
Rotten Food
I learned very quickly while building my kit to be leery of readily found packaged food products in my kitchen and at the store because they have a very short shelf life. These short shelf life's make these food products a bad choice for long term storage in an emergency kit. Products such as luna bars, small bags of chips, and other packaged foods will typically expire within a year or less from the time you buy it. Many people will add liquid bleach to their emergency kits for disinfecting drinking water but they don't realize that it expires 6 months to 1 year from manufacturing date. While canned food has a longer shelf life it is bulky and heavy and therefore it is impractical to have many canned food items in your kit.
If you want to set it and forget it then I highly recommend Mt. House freeze dried food packs which have a lengthy shelf life of over 10 years and one pack is typically designed to feed two people. Costco regularly sells bulk Mt. House emergency food kits and they can easily be found in local outdoor recreational stores like REI and Next Adventure. Additionally I added a Mayday 2400 Calorie Survival Food Bar that has a 5 year shelf life. These high calorie emergency food bars are not ideal to eat by themselves and therefore I have supplemented them into our daily food plan to offset the typical negative side effects experienced when solely eating the high calorie survival bars.

The Emergency Radio, flashlights, and Walkie Talkies

I wanted emergency backup supplies that didn't require a lot of attention and could easily be forgotten about for a year and still work straight out of the bag.

So my first purchase was a Dynamo 3-LED Squeeze Flashlight for $3.99 found at our local recreational outdoor store.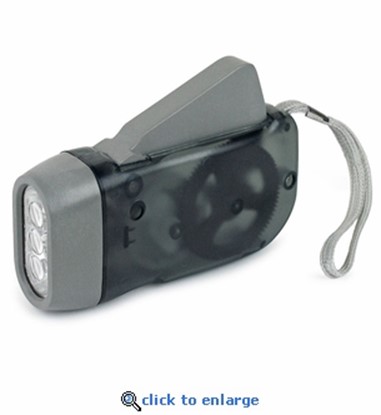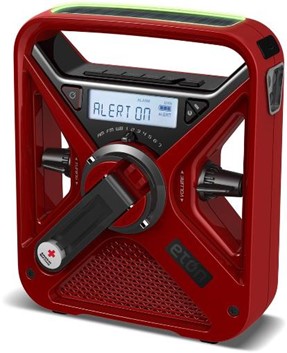 Eton FRX 3 & Eton FRX 5

The Eton FRX 3 emergency radio has multiple powering options and NOAA push notifications from weather channels. I came across a lot of online reviews which complained about the ability of this unit to power their cell phones or to be used on a daily basis the complaints are frivolous. This radio is not designed to be used as a standalone phone charger or to be used daily. This is an emergency backup radio that is designed to be used infrequently during emergencies. The phone charging feature is clearly described by the manufacturer as being a dump charging emergency system which completely drains the radio of all energy from the battery to give it to the cell phone. Once that power is depleted the radio will need to charge which can take up to 10 hours if using the solar charging feature. This radios retail price of $69.00 makes it just outside of my price range for what it does.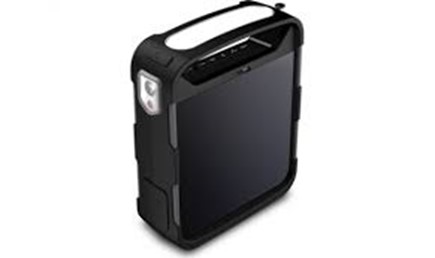 The Eton FRX 5 is the newest upgrade to their emergency radios. They improved the exterior build by reinforcing the radio so that it can withstand being dropped from a height of 3 ft and is water resistant (not water proof). They added a solar panel which covers the entirety of the back of the radio and cuts the charging time down to 5-6 hours. They added a room light to the top handle. My only concern is that the battery in the FRX 3 is a 2600 mAh and they seem to have downgraded to a 2000 mAh in the FRX 5.

By happenstance I received a FREE FRX 3+ but I would highly recommend the FRX 3 or FRX 5 at a discounted price the radio will make a great addition to your emergency back up or camping gear. The FRX 5 is priced at $99.95 and free shipping from google express.  The next comparable emergency radio is the Running Snail Solar Crank for $32.99.

Eton FRX 3 & 5 vs Eton FRX 3+

The Eton FRX 3 & 5 have
1. Solar Power
2. Dynamo Hand Crank + rechargeable battery
3. AAA Batteries


The Eton FRX 3+
1. Solar Power
2. Dynamo Hand Crank + rechargeable battery

Motorola T600 Talkabout Radio, 2 Pack

One thing that I immediately learned is that an advertisement and spec sheet for walkie talkies is a huge exaggeration from their actual performance distance. A lot of walkie talkies claim to work at distances of up to 52 miles away when in practice the best ones operate in heavy wooded areas up to 2 miles away and in urban settings this is even less of a distance due to all of the housing and building obstructions.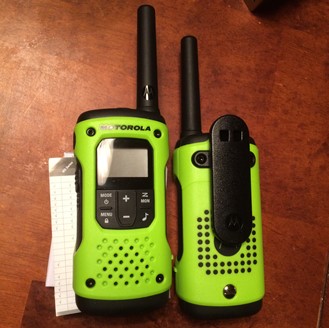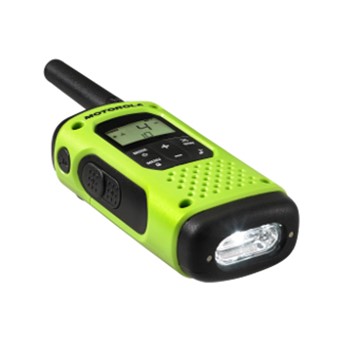 I found that a majority of the walkie talkies all shared equally negative and neutral product reviews. So I decided to go with the Motorola T600 because it's packed full of bonus emergency features. It offers a water proof case, a hefty flash light that serves as flashing beacon if dropped in water, and a red night vision LED. It also tunes into 11 weather/disaster channels, has a built in emergency rescue whistle, and an alert siren. The deciding factor on top of all of these features was the fact that it has two powering options. You can use the rechargeable batteries or you can use 3AA batteries to power it straight up.

We were able to test the walki talkies at a range of 2 miles, 4 miles, and 7 miles of peak to valley testing and in urban area. The 2 mile test was conducted in the urban setting with minimal interference from buildings or tree's (unlike the PNW). The 4 and 7 mile testing performed beyond expectations and we could hear one another quit well. Eric took the handset with him Mt. biking on the Wasatch front while I stayed home and the 4 and 7 mile tests were conducted via a peak to valley environment.

My one complaint is that the removable belt clip/emergency whistle has to be removed in order to access the battery panel. This would be easier to do if the removable clip had a built in flat head screw driver to remove the screws to access the battery compartment.