Once I tried these products I couldn't fathom why anyone would go another minute without having these time saving and money saving items.
If I were going to replace my ARB fridge I would buy the Snowmaster expedition series  
It has a 5 year warranty on the compressor
comes with the insulating transit bag
comes with the wireless remote fridge monitor
has dual freezer and seperate refrigerating compartments.
all at a cost of $1,249.95 for a 69qt 
the $900 50qt ARB+ $70 wireless monitor+ transit mag $128= $1,098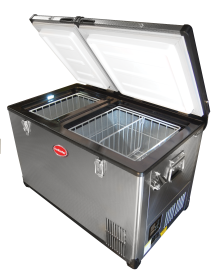 ARB FRIDGE 50qt
I have been using our 50qt ARB fridge for over 3 years now. The ARB fridge comes with a 3 year warranty!  I love it so much that we got rid of our extra garage refrigerator. I have not experienced any problems with this unit that weren't caused by user error such as needing to adjust the internal battery maintenance shut off levels.  It comes with a hefty price tag but completely worth it! We use it on our 10+ hour car trips, camping, day trips, shopping, we use it for extra indoor refrigerator space. We love having it when guests are staying at our house so we can put it in the spare bedroom.
These refrigerators take up a good chunk of space but if I had to do again I would have bought the next size up. This refrigerator is decent for shorter trips of 3-4 days.
Update 10/1/17

Refrigerator Insulation Case Defects
Something that I noticed is that there is a ARB brand emblem on the front lid of the refrigerator that seems to fall off many of these units. Another defect I noticed this last trip is that the insulation bag is poorly constructed A) the metal clips don't always bend into the refrigerator points that they are meant to and B) The double sided Velcro that attaches the bag to the refrigerator came off and will need to be replaced or construction glued in place.
12V Power Cord Defects
With all of our camping 12V products I have now had to replace numerous power cords due to the 12V ends breaking. My suggestion is to cut and splice on Anderson power connectors for a stronger longer lasting power cord.
ARB Remote Wireless Fridge Monitor
Update : We bought the remote monitor and it has a strong wireless connection. It is suitable to be used with stock 12v cigarette power ports, however it does have a tricky connection that can be easily lost if not snugly fit into the 12V outlet.  Noticeable manufacturing defect is the sticky plastic and glue used to cover the main screen. When you pull the plastic off it leaves the heaviest residue I have ever seen and it obscured the view of the monitor and collected dust from our driving.
We used the remote monitor for the first time this last camping trip through White Rim and it worked amazingly well and we were very appreciative of being able to see when the refrigerator was working or had come loose due to all of the 4 wheeling.